Architecture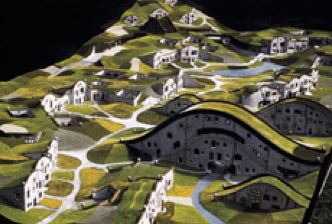 IN THE MEADOW HILLS

1989
Planning: Architect Peter Pelikan
Model executed by: Alfred Schmid




"In The Meadow Hills" will be worldwide exemplary. Living near to nature and with human dignity is affordable and possible for everyone, and even cheaper from the point of view of national economy. Because the overall costs of buildings hostile to nature and men to the community exceeds by far the investment.
...
Living space for people is doubled by using woodlands and nature roofs. The normal sterile and dead roof is changed into a meadow to lie on, a private forest, a holiday hill, a look out, a park or a garden.

....
Everything that is horizontal and under the sky belongs to nature.
Here it becomes true.

Man must return to nature on the roofs what he took away while building the house, here it becomes true.

Man is a guest of nature and should behave. Here it becomes true.

(from: Hundertwasser, In the Meadow Hills, 1990)