Post Stamp Projects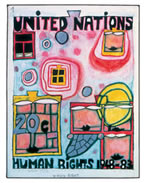 846 WINDOW RIGHT

Watercolour
Kaurinui - Vienna, 1983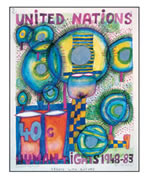 847 TREATY WITH NATURE

Watercolour
Kaurinui, 1983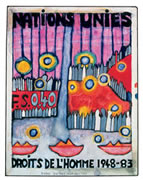 849 HOMO HUMUS HUMANITAS

Watercolour
Kaurinui, 1983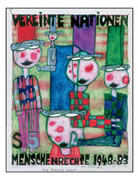 850 THE SECOND SKIN

Watercolour
Kaurinui, 1983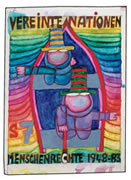 851 RIGHT FOR DREAMS

Watercolour
Kaurinui, 1983
"A postage stamp is an important matter.
Though it is very small and tiny in size
it bears a decisive message.
Postage stamps are the measure to the cultural
standing of a country.
The tiny square connects the hearts of
the sender and the receiver, reducing the distances.
It is a bridge between people and countries.
The postage stamp passes all frontiers.
It reaches men in prisons, asylums and hospitals.
… "
(extract from: Hundertwasser on the occasion of the first day issue of his 6 postage stamps for the United Nations for the 35th anniversary of the declaration of human rights on December 9th, 1983)