Graphic Work
With graphic art I enter a paradise which I cannot reach with my brush.
To make graphic art is like playing chess simultaneously with many unknown partners.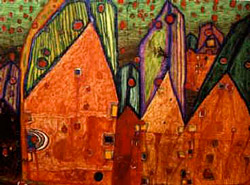 484A HOUSES IN RAIN OF BLOOD

Japanese Woodcut
1961
The first time I came in contact with Japanese woodcut-prints was in Italy when I was hitchhiking with friends and I saw rainfalls of Hiroshige as some peasants walked with umbrellas in the rain, and I saw Hokusai prints with the Fujiyama in the background and with clouds and with water and waves, and this all left such a deep impression on me that I decided later to do prints.
Immediately I did some sketches for woodcut-prints - it was all in 1950. It took a very long time, ten years later, finally, when I was myself in Tokyo I could contact the first Japanese woodcutters and it was very difficult to convince them to work together with an European artist, because they are very jealous of their art and it is right so. (from: Japanese woodcut-prints and I, 1977)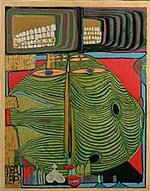 669 KING KONG

Silk screen
1968
This was the beginning of a long period of working together with my friend, the "Coordinatore" Alberto Della Vecchia. Up to that time I had resisted doing graphics. What had been done in this line hitherto had come about more or less because I had no choice. Until Alberto brought me a "Hundertwasser graphic" he had done. I immediately felt ill: this was kitsch which aped my style. Nonetheless, it was the decisive impetus to do it better, to do it right. Thus "King Kong" came to be. Hundertwasser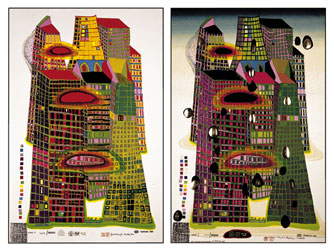 686 GOOD MORNING CITY

Silk screen
1969/70
686 GOOD MORNING CITY - BLEEDING TOWN

Silk screen
1971
This is my first large print edition, which I numbered from beginning to end; but actually it isn't one, since it consists of many variations. It is based on 151 Bleeding Houses. I spent months in the print shop in Campalto, while the Regentag lay in berth not far away, in a canal of the lagoon near Ca' Noghera. It was like a simultaneous chess match with more than forty opponents. I did this even more radically later with the silkscreen print 860 Homo Humus come va. I don't think anyone can outdo me in this gigantic enterprise, which took up two years of my life. I used completely new techniques in print graphics: metallic-stamp printing, phosphorescent colours that glow in the dark, reflecting glass-bead appliqués, convex embossing and an incredible number of colour overprints which I painted separately on transparent foil, from where they were transferred to the screen. Then the proofs of the infinite number of colour combinations. I wanted to reduce the conveyor belt to absurdity. I got myself into a bind between the incredible demand which had materialised and my pride in creating something original, not mass-produced, and I wanted to give as much of my inner self as I could. I went to court and won because I wanted to keep the prices low (just like with the Art Club portfolio of 1951) - 100 marks per print, to make it accessible to many people. It was all for nought. I could not fix the price on the open market. It was a victory and a defeat all in one.
Hundertwasser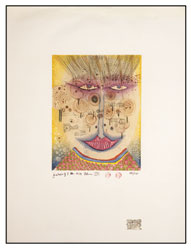 728 MEADOWMAN

Etching
1974
My division of labour for print-graphics production was in full force: Japan for wood-block prints, Paris for lithography, Venice for silkscreen printing and Vienna for engraving and copperplate engraving. I think there is no better way of dividing up and utilising the traditional mastery in the various sectors of print graphics.
Hundertwasser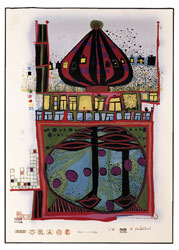 860 10002 NIGHTS HOMO HUMUS COME VA HOW DO YOU DO

Photolithograph/Silk screen
1984
…Now with my 83rd graphic work I succeeded in producing as many different specimens as their number in the edition. I succeeded not only in creating a graphic work, but a genuine original graphic work, a unique original. This actually was only a last step into the direction of a good conscience.
The word original graphic work should mean that this graphic specimen is an original, a unique work, not a reproduction nor a duplication, i.e.,
it is not a reproduction after a picture,
it does not exist a second time.
The only difference from a hand-painted picture is that it was produced by a printing technique and not by using a paintbrush. In the age of reproduction and duplication and mass production I am proud of having been the first to transform and vanguish the assembly line. When the machine produces originals it will lose its terror and cease to be an assembly line. (from: On Original Graphic, 1984)