Wieland Schmied on Hundertwasser's Painting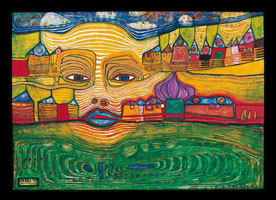 A major part of the effect of Hundertwasser's painting is colour. Hundertwasser uses colours instinctively, without associating them with a definite symbolism of even his own invention. He prefers intensive, radiant colours and loves to place complementary colours next to one another to emphasize the double movement of the spiral, for instance.
…Today the position of his painting is singular and unparalleled.