CERAMIC OBJECTS AND PORCELAIN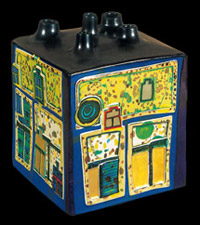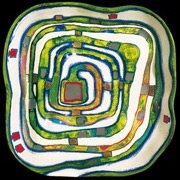 CASA VIVA – Flower House, Spiral Valley
Ceramic objects, 1983
Both objects were developed by Hundertwasser from August 1981 to October 1983.
The object "CASA VIVA – Flower House" was produced in an edition of 500 specimens by Rosenthal AG in Selb, Germany. Modellers had to work a total of some 480 hours to produce the prototype of the relief as desired by Hundertwasser.
"Spiral Valley" was produced in an edition of 2000 specimen by Rosenthal as well.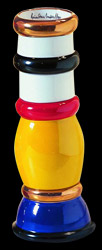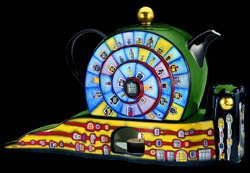 HUNDERTWASSER PORCELAIN EDITIONS
The porcelain editions were developed in cooperation with "Königlich privilegierter Porzellanfabrik Tettau", a manufactory, founded 1794 in Bavaria. In a complex manufactory work up to 16 colours are burned into the noble material, including silver and gold applications. The porcelain objects meet Hundertwasser's concern for the beauty and for variety in all aspects of life.