CICADA KITES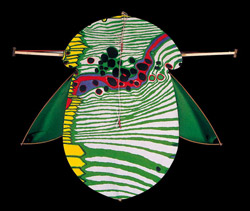 Three-dimensional objects, 1989
For the creation of the kites the Japanese colour woodcut prints 557B Do Not Wait Houses Move and 870A Pacific Raindrop on Tahiti, cut by Tatsuo Kawashima and printed by Akio Shimizu, both members of the studio Uchida in Kyoto, were used. The kites were built by Masaaki Sato, Nagoya.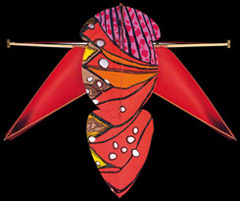 He created 12 variants, different in form and image, in an edition of 75 specimen each.
The idea for these kite objects came from the Goethe Institute in Osaka, which had asked 100 artists from 20 countries to decorate Japanese kites on the occasion of the "Year of the Dragon" (1988). The kites were shown all over the world in the travelling exhibition "Pictures for the Sky".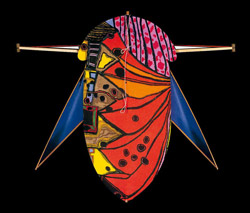 Hundertwasser's kites are Japanese kites in the traditional shapes of insect kites that originate from the Nagoya region. Following local tradition, the cicada kite is equipped with a unari aerophone instrument, whose taut string sounds the typical cicada chirping in the wind. Hundertwasser agreed to design a series of kites, consisting of the 12 shapes from Masaaki Sato's repertoire, among them cicadas, bees, bumble-bees, horseflies and the circular wanwan kite.